This blog is the sister blog of my blog La Casa Cactus.
The latter is in French so I thought that might be easier for my wonderful international readers to have access to a blog written in English. I hope that you will find everything you liked on La Casa Cactus, translated here.
23 avril 2014
Sorry, dear readers of La Casa Cactus Bis, but it's been a bit too difficult for me to handle two blogs simultaneaously!
BUT, every cloud has a silver lining and my main blog will get back to its bilingual state!
So, I hope I will read your lovely comments there!
FOLLOW ME on
05 mars 2014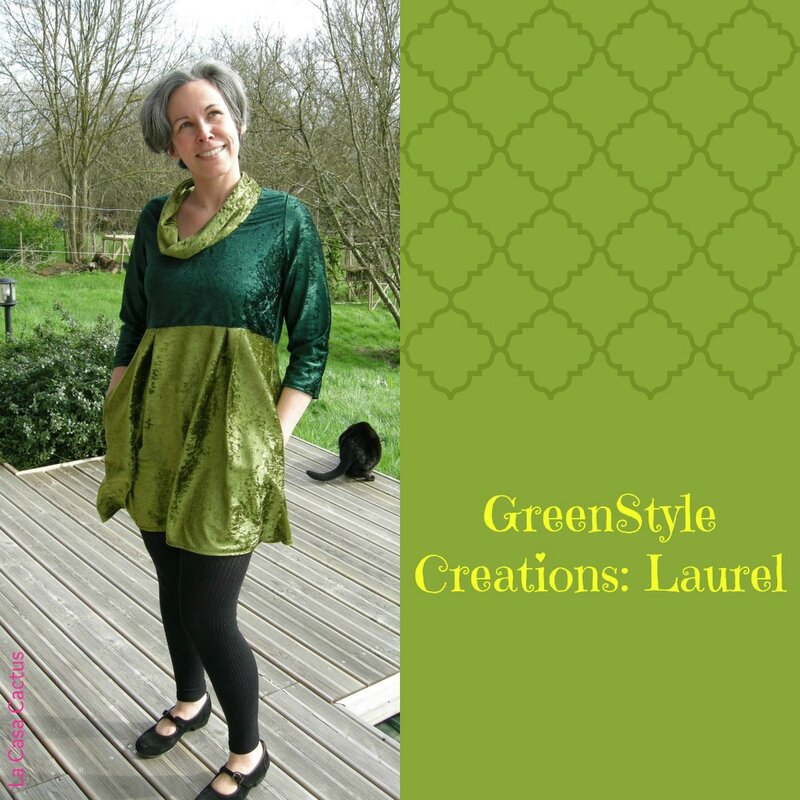 That's not something you'll see very often: me testing something for ME!!!! And I'm rather happy with how it turned out!
As usual when I'm testing, I didn't buy any new fabric. I took some remnants from Miss G's Frozen dresses. That's velvet panne from a German webshop
I opted to sew a tnuic with 3/4 sleeves, using two colors. This choice is not deliberate, I didn't have fabric enough in neither of the 2 colors!
The bust is a size M and the lower part, a size L...!
Laurel shows great potential:
Dress with 2 lengths or tunic
Long sleeves, 3/4 sleeves, elbow-length sleeves
3 torso lengths
The latter point is really great for me because I might be only 5'4", I have a long bust and using a "regular torso" would have ended in a ugly sewing line right across my bust!
The pleats are well designed since they don't enlarge your "bottom"! I was a bit afraid to look pregnant in my tunic, but it's just perfect! Comfy without being baggy.
The cowl is very attractive too and side pockets enhance the value of the tunic/dress.
That's a rather quick-to-sew project. Printing and taping are the longest parts! That's a "knit" project, but some testers used woven for the "skirt" part.
I really like this tunic and it will become a staple in my wardrobe. I see it in striped jersey for the week-end or in a rather silky knit for everyday wear.
I'm extremely happy with the look of it and it will push me for some SELF-CARE SEWING!!!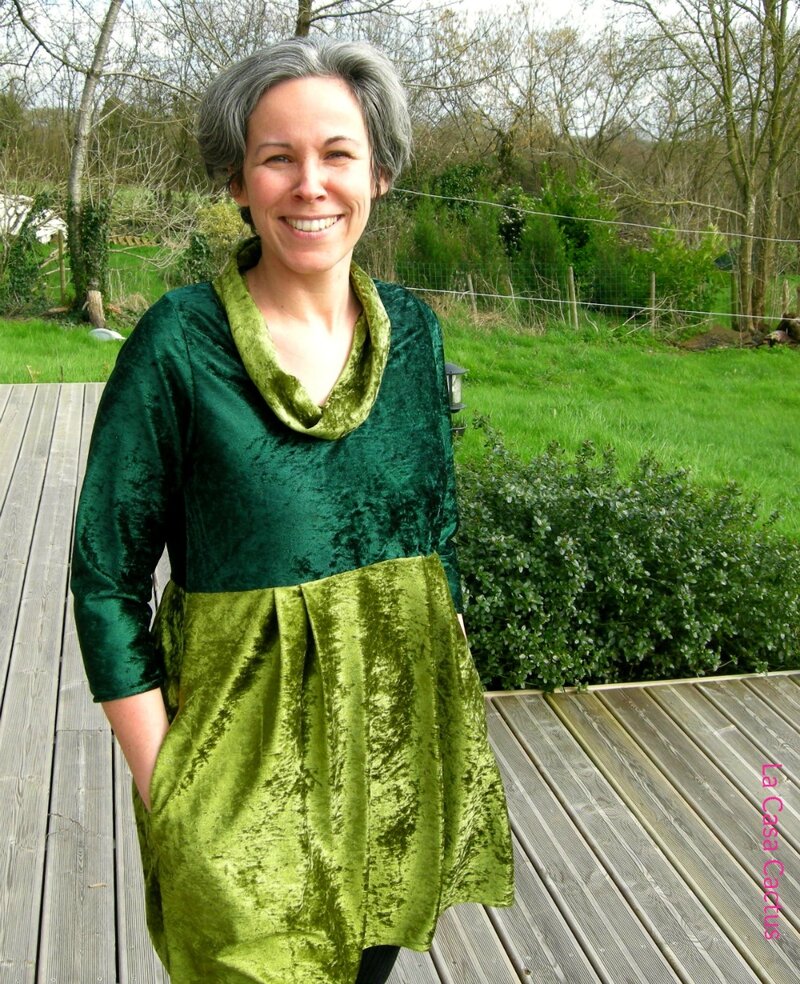 The pattern is available here (size xxs-3xl, PDF $8): Greenstyle Creations
25 février 2014
Because we're on a 2-week winter break, I can't sew whenever I want. I lock the guestrom-sewing room while they're watching cartoons!
Elsa's nearly done! And it fits Miss G perfectly (happy dance!). I underlined AND lined the bodice. Extra workn but taht way, I'm pretty sure she won't get through the kind of net taht holds the glitters together. I still have to sew the velcro tape, to hem the skirt and to stitch the lining to the skirt.
In the meantime, I carry on working on the other Frozen dresses. The 3 others skirts are sewn, I cut the Anna cape. I'm drafting Anna's coronation dress bodice again since I wasn't so happy with what I drafted first.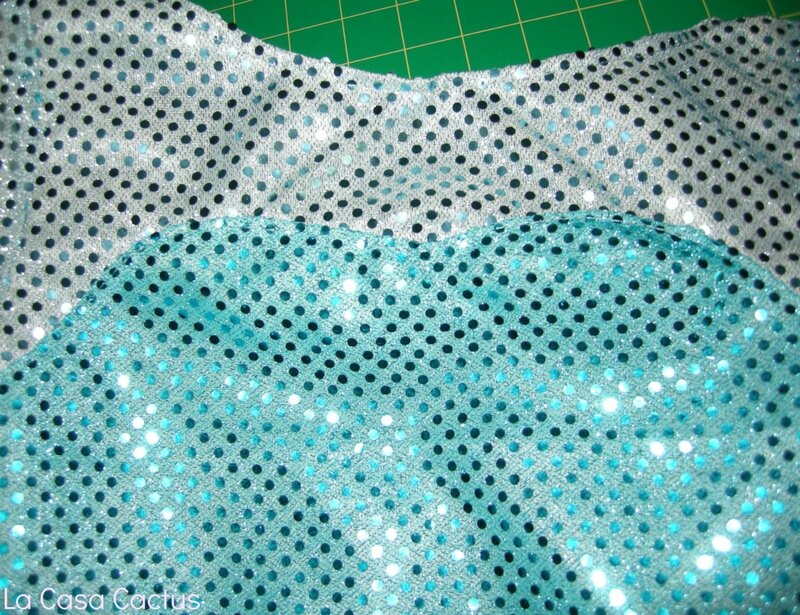 I know...rather glittery!
24 février 2014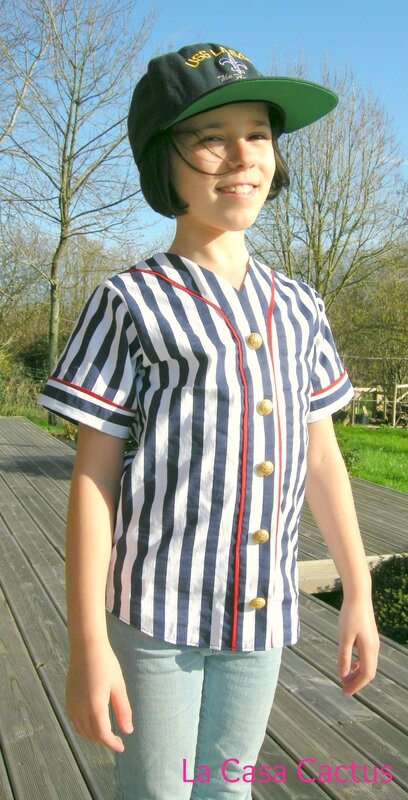 We, French people, are not known for our love/knowledge of baseball, but when I saw this call for testers for a vintage baseball shirt, I applied. I sent my 2 children's measurements and, to Mr J's dismay, it was Miss G that was chosen...!
In my mind, I wanted to do an extra-girly shirt with pink/purple fabric and ricrac, but the only purple fabric I had was made of polyester and since that project involves a lot of pressing to get a crisp look, I left my polyester aside. I turnt to my stash and digged into it. I don't buy any fabric when testing. I was lucky to have a dear friend who had sent me fabrics, buttons and threads she had no use of. Among those was an old curtain (!)...I chose it!
Here's my version of the Old Tyme Baseball Shirt, by Dandelions N' Dungarees. Flat red piping and gold buttons gave it extra vintage flair. And I managed to get (nearly!) all my stripes aligned!
I cut a size 6Y, I should have chosen a size 7 since it's not as loose as I thougth it would be. She can't wear a tshirt underneath. The fit is great nonetheless, since this fabric is home decor, it has no give AT ALL! The piping on both facings and cuffs is a wonderful idea.
The front facings are amazing an well thought of. This is a rather quick project to sew, especially if you don't have stripes to align!!! the sleeves fit perfectly.
All in all, that's a wonderful pattern I'll sew other times (e.g. for my "poor" son who has been left aside in this pattern testing...Poor J!)
You can find the pattern in various sizes in the shop (NB-2 ,2-7 and 8-16).

18 février 2014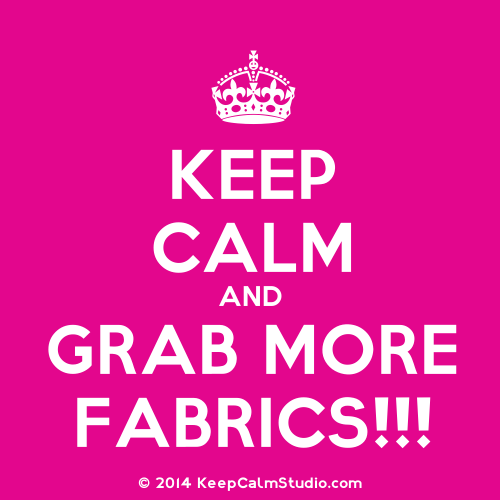 My fabrics were delivered yesterday, from Germany.The crushed velvets are nice and stretchy, except the black one, I don't know why. The glitter knits will be underlined to add stregth because they are a bit thin.
Next step: cutting all of these while Miss G is at school. Our winter holidays start next Friday so I won't be able to do any sewing on her birthday Frozen dresses for 2 weeks since she thinks that only the blue dress will be sewn and not the whole lot of Frozen dresses (or, at least, 3 out of the 4 dresses!).
PS: Did you see my " Keep Calm and..." picture? You can do yours for free and import it in .png. Cool!
13 février 2014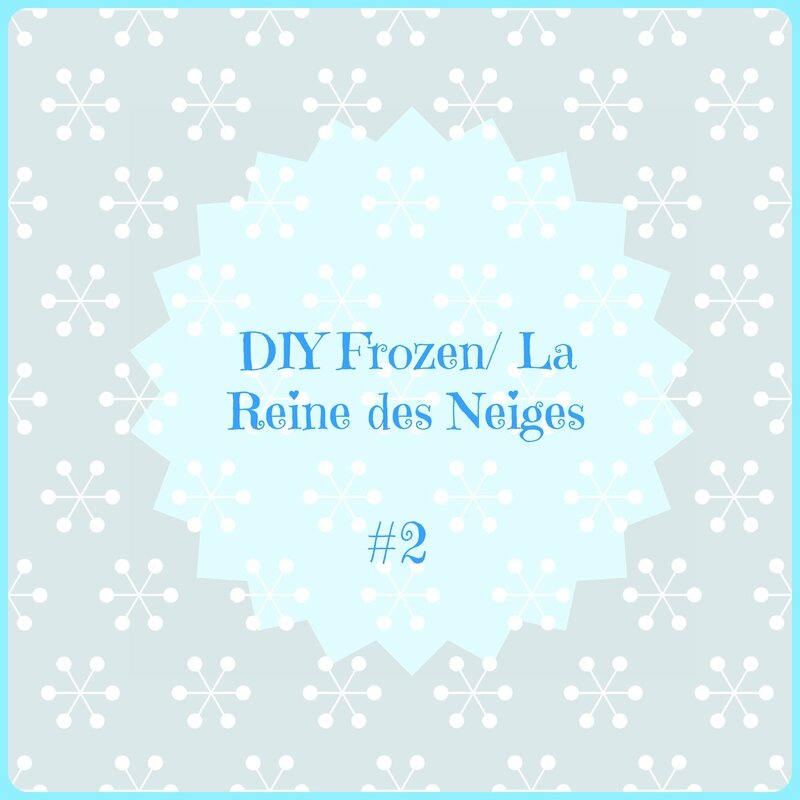 The bodice tutorial is available here
Second stage: the skirt.
That's rather easy compared to the drafting of the bodice.
A skirt made in two parts. Easy-peasy!
STEP 1: FRONT SKIRT

You need your daughter's measurement from natural waist down to her ankle. Let's call it "H".
You need your daughter's waist measurement. Divide it by 4 and add about 2/3 (in order to pleat or gather the skirt). Let's call it "l"
Trace a rectangle with a length = H and a width = "l".
IMPORTANT POINT: you know that your front bodice has a pointy shape in front so if you don't take that into account when drafting your skirt, you might end up with a skirt that goes UP at the sides!!! You'll have to add that discrepancy to your pattern. That's easy.
Get back to your lower bodice pattern and measure the distance between the point and the top of the hip. Let's call it "D"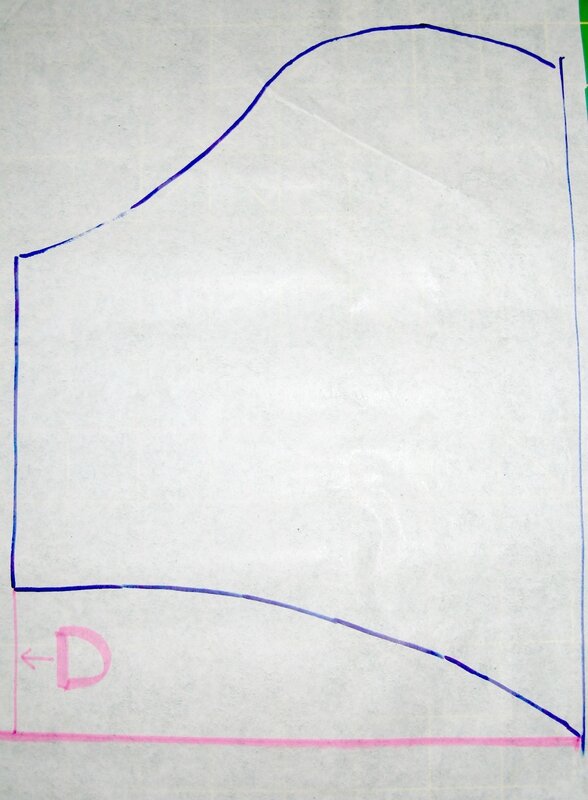 Back to the skirt draft..
Add "D" (look at the picture below). Trace a new line between the skirt center front and the new hip point. There it is!
Add your SA to the sides and the waist.
STEP 2: BACK SKIRT
Trace a rectangle (length= "H+D" width = "l"). Instead of folding, cut two pieces in order to insert your chosen closing system.
Add your SA to the waist and to BOTH of the long sides of the skirt !!!
That's it, you drafted your skirt pattern!
Next stage: assembling the dress. It might take some time for the pictures to be edited since my fabrics are not dispatched yet...!!!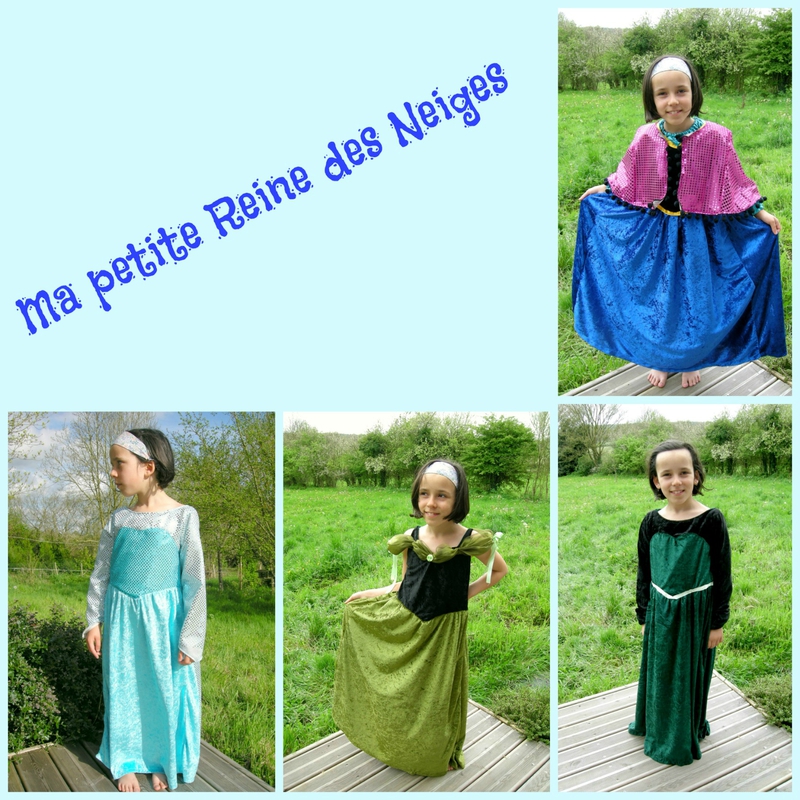 12 février 2014
Miss G being a Frozen-addict and also a costume-addict, it's not surprising that I planned to sew her Elsa's blue dress. She will get it for her 8th birthday, on March 27th.
No PDF pattern I was drawn to, no pattern in my stash I really wanted to alter so I (badly!) sketched the dress I had in my mind (my drawing skills are those of a 2 year-old so I spare you my sketches...).
Here is my version of the Elsa Dress for a Frozen queen-to-be. I plan to sew 2 different fabrcis, hence the choice of a two-part bodice.
That's a rather long tutorial so I cut it into 3 parts (drafting the skirt is here). I hope that you will find it helpful. In case you're lost somewhere, just ask!
Stage 1: the bodice and the train.
MATERIAL:
One of your princess's t-shirts (slim-fit would be better)
Pattern tracing paper (or any paper)
Pencils
Rulers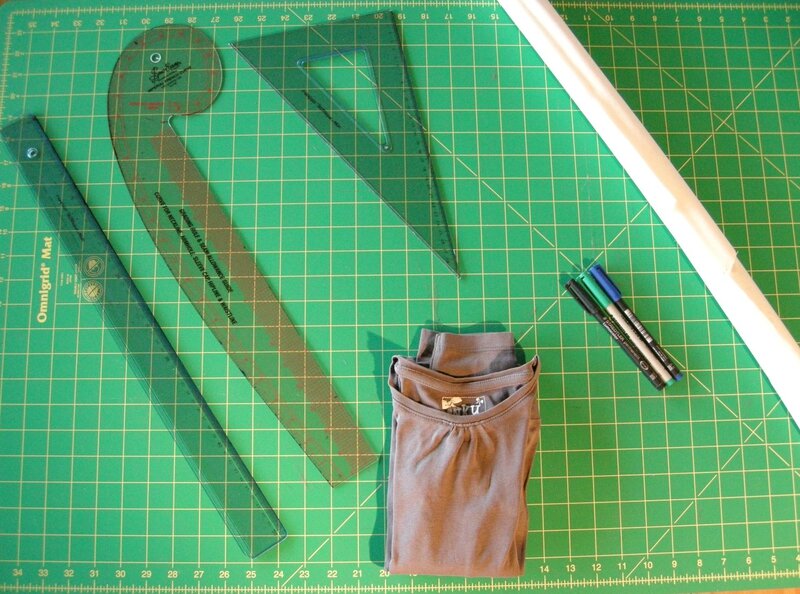 PRELIMINARY STEP:
Fold your t-shirt lengthwise, tuck your sleeves inside.
Try to get your seams aligned (pin them if necessary).
STEP 1: FRONT AND BACK
Trace two perpendicular lines
Align the center front of your t-shirt to the vertical line.
Trace the t-shirt shape: one front and one back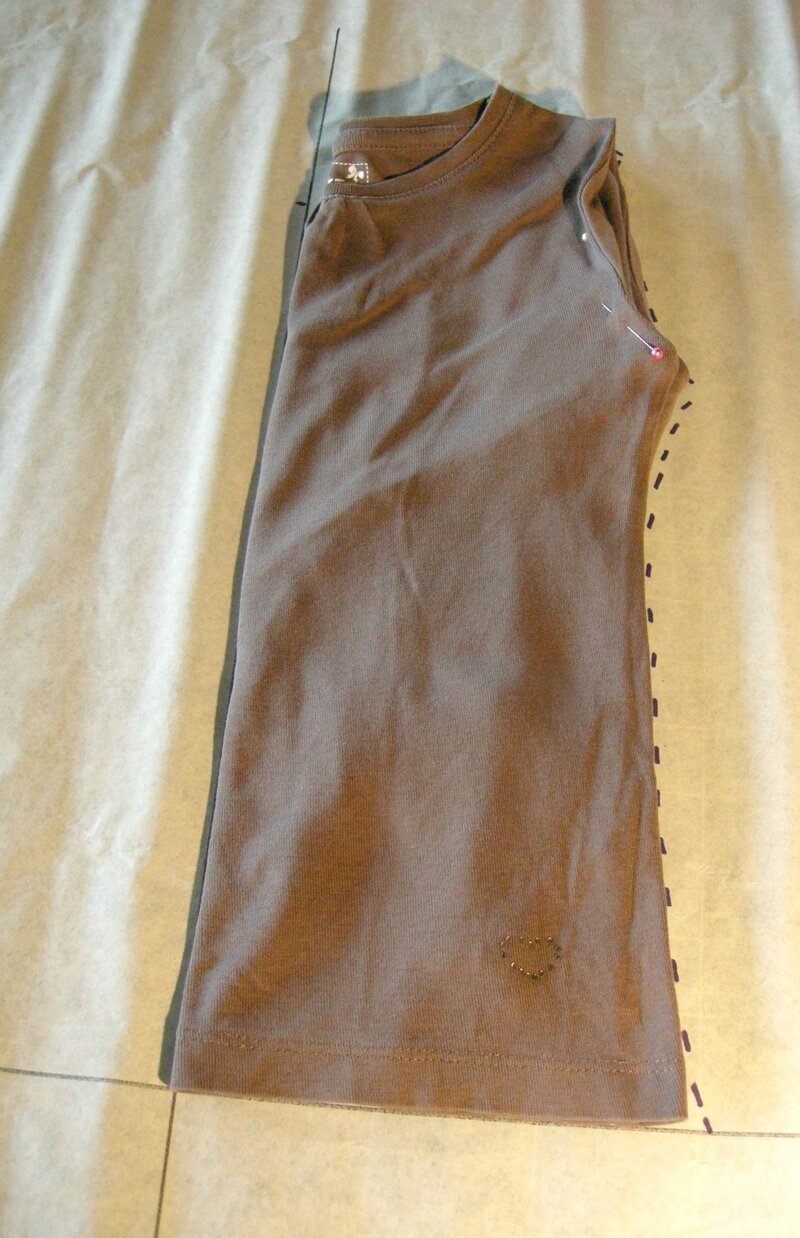 STEP 2: FRONT BODICE
NECKLINE
On the shoulder, draw a mark, 1" from the neckline.
Trace a curve starting from the mark to the center front. The neckline should look like a half-boatneck!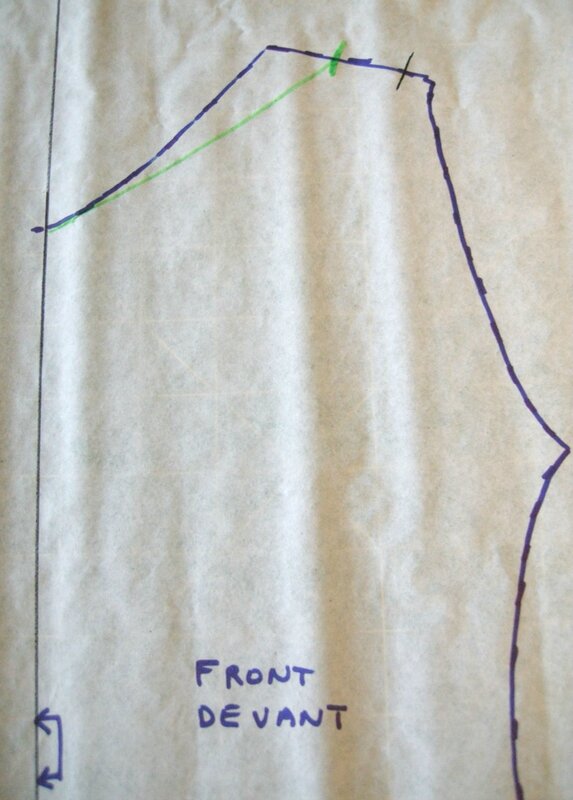 THE HEART-SHAPE TOP BODICE
Draw a mark 1" from the lower armhole.
On the fold line, draw a mark 1 1/2" from the neckline.
Draw two curves as if shaping waves. Use cans or your ruler to get nice curves. Because you're working on the fold, once your fabric is unfolded you'll get a nice heart-shaped curve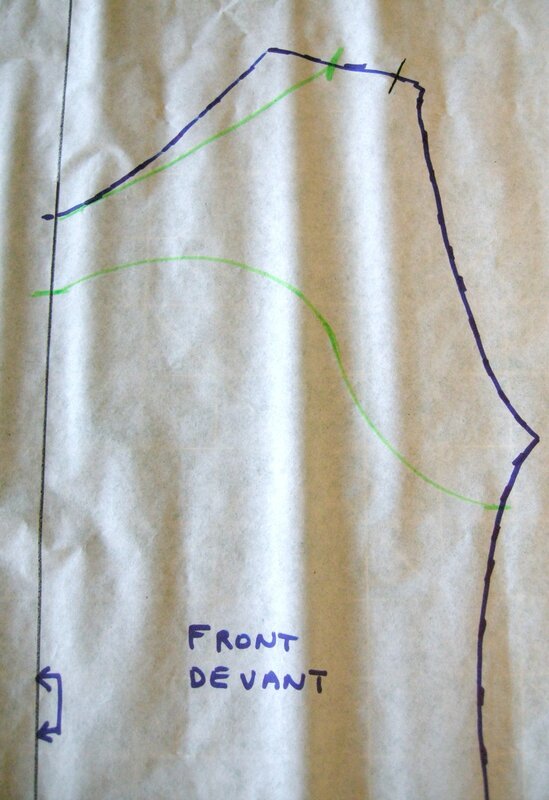 THE LOWER BODICE
Draw a mark on the outer seam (you can choose wherever you want, but the best is to have it at the top of the hip)
Draw a slight curve starting at the mark and finishing in a point at the center front.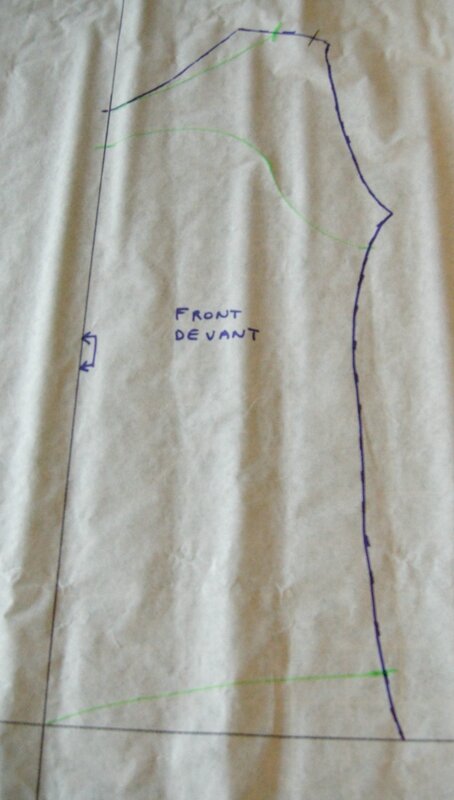 STEP 3: BACK BODICE
NECKLINE
Same as in STEP 2
BACK (top back and lower back pieces)
Draw a line starting 1" below the armhole and cutting the back bodice in half.
When sewing the bodice these lines will be aligned so take extra care when drafting them. Double-check with the front bodice "wave-lines"

Measure the outer seam of the front bodice. This will also be the measure of your back bodice's outer seam (otherwise...nasty surprise when sewing!) See the green line, at the bottom? Cut your bodice back there!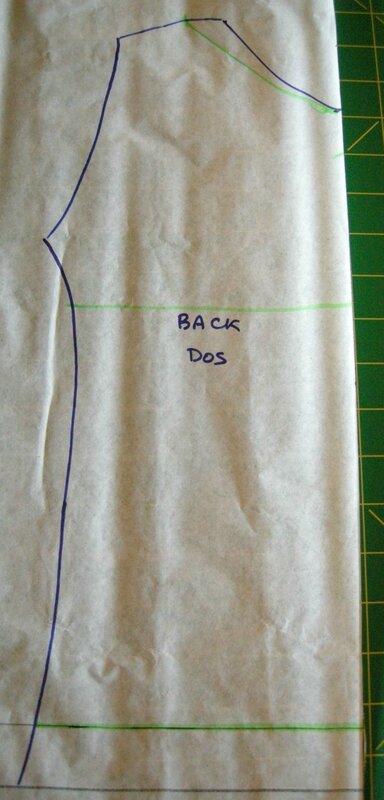 STEP 4: CUTTING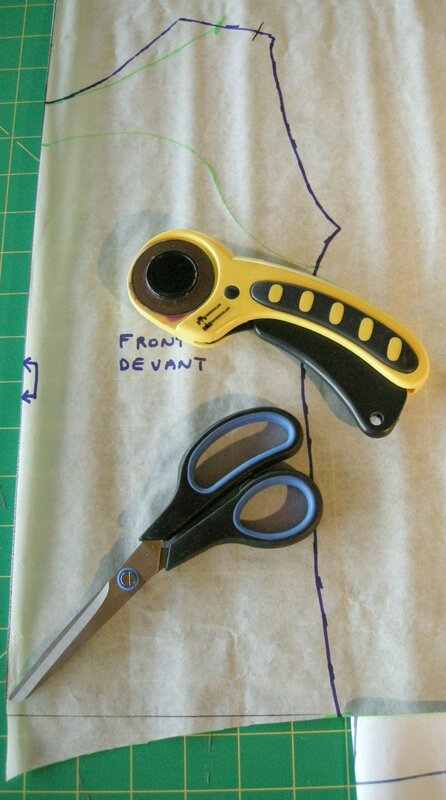 Cut your pattern pieces and number them! That's important because you may need to alter them and not knowing if you have in hand the revised pattern or an unrevised version might cause troubles!
Time for adding your favorite seam allowances (mine is 3/8").
Tip: afraid of sewing convex/concave curves? you can lengthen your top bodice like shown in the picture below.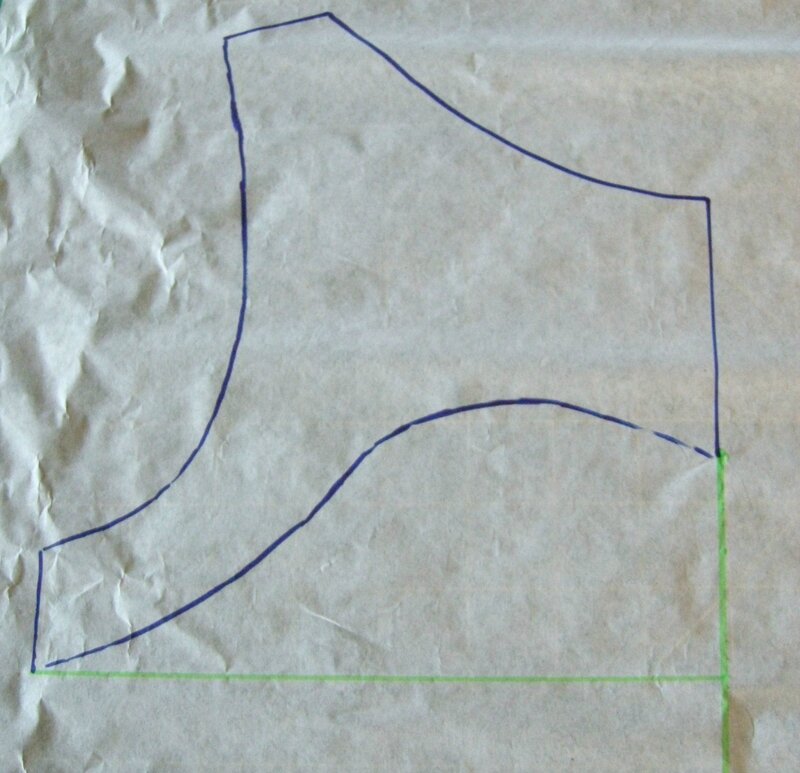 STEP 5: SLEEVES
Unfold your tshirt sleeve, draw the sleeve cap.
This tutorial is really helpful so I won't dwell on sleeve drafting...!
Trace your sleeve, lengthen it and add a point tha will rest on the top of the queen's hand!
Add your SA.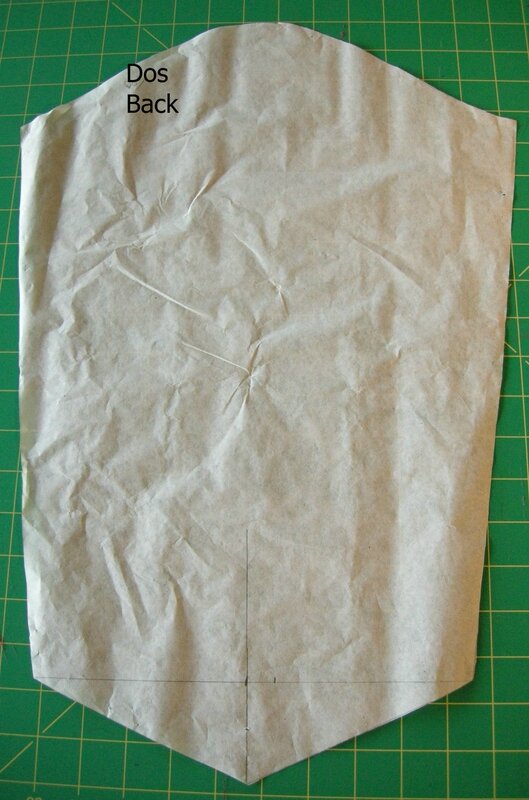 STEP 6: SEWING A MUSLIN
I made 4 muslins before finding the one that was 1. modest enough to cover Miss G 2. with the adequate length of sleeves 3. suited me!
With RST, proceed by sewing the top front to the lower front piece then the top back to the lower back.
Stitch the shoulder seams, RST.
Stitch your sleeves. I only sew one sleeve since I found puckers on my armhole i.e my sleeve curve is not enough.
Tip: front and back of sleeves are different. The front is curvier than the back and you must have some "fabric excess" on the sleeve (about 1"). If your armhole puckers, that means that you've got to alter your sleeve cap by adding some curve to it.

Have you noticed that the back is open? You can thus choose whatever closure system you prefer: velcro, zipper or nothing at all if you use really stretchy fabric (in that case, cut your back on fold and substract 2" and your SA).
I haven't chosen yet. I don't even know if I will line the bodice (I'll see...!).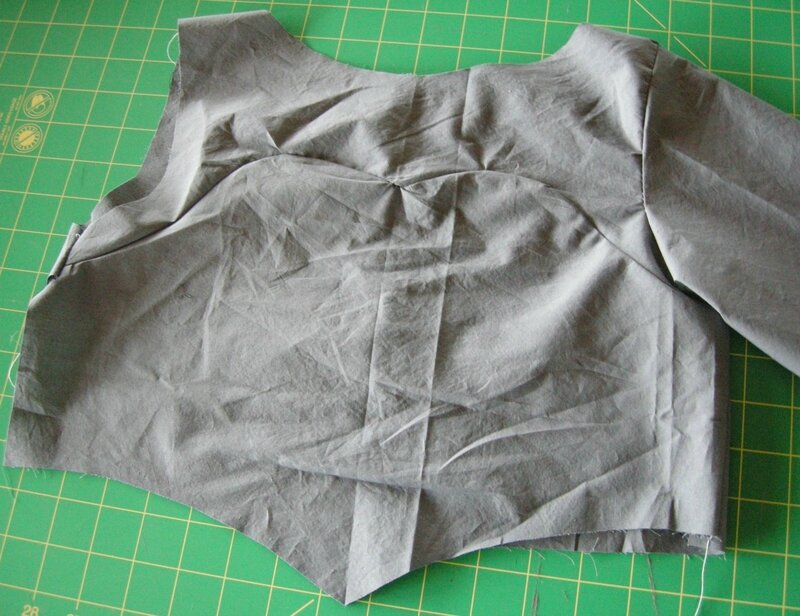 (I know, there's something called IRON in my cupboard...that was my 4th attempt and this one was the right one.It was less wrinkled last week anyway!)
Is your muslin fine? Now, drafting the train!
STEP 7: THE TRAIN
I decided that it would be more wearable if the train was attached only at the back.
On your daughter, measure her center back to the ground. Add 10" (a train is to be languidly following your aspriring queen...). You get measurement "H".
Get her center back- under the arm measurement. To get a nice flow of fabric, add 10". You get measurement "l" .
Trace one horizontal line measuring "l". Trace 2 perpendicular lines: one measures "H" (this line will correspond to the center back) and the other is 5-7" shorter. Trace a gentle curve between both lines as shown below. THat's it, you've got your train (well, one piece of your train!)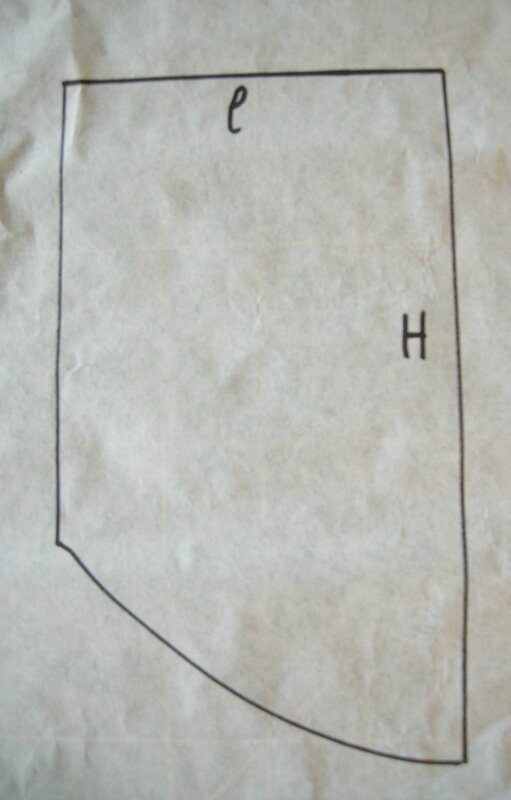 END OF BODICE DRAFTING!
Next step, the skirt...tomorrow!
31 janvier 2014
TUTORIAL available here (Feb. 12, 2014)
Drafting a pattern when you've never done that is a bit tricky. That's my 5th try at Elsa's bodice. There's always something I didn't anticipate...!That's getting better, nonetheless.
I got my fabric samples from a German webshop (very fast and good quality).
Let's go back to "work"!
EDIT: Would you be interested in a tutorial for this dress? Not right now since I haven't finished the dress yet (and I've got other projects), but I could spare you some time (!). A comment below the article to tell me whether you're interested.

25 janvier 2014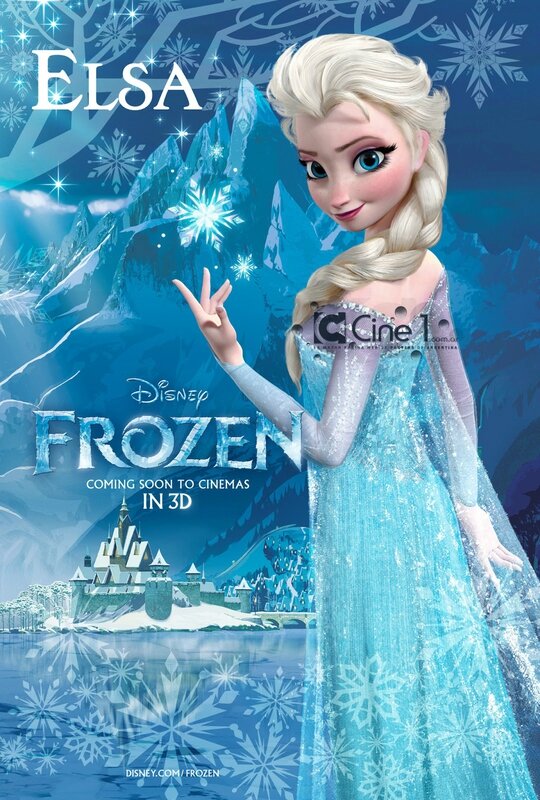 TUTORIAL available here (Feb. 12, 2014)
Rapunzel's dress was a hit a few years ago, but Elsa and Anna's dresses mesmerize Miss G much more!
Miss G is addicted to Frozen. Every morning, in the car, she reads her Frozen book to me. She sings "Let it Go" (in French, which is usual and in pseudo-English...!).
that was obvious to me that one of birthday presents would be one of the Frozen dresses, but which one? I was pretty sure that the blue dress would be a hit. I told her that I could sew it for her birthday,; She was happy, then asked, if she also could have the OTHER dresses for next year's birthday!!! I told her that I wasn't so sure that Frozen would still be her favorite movie next year. So I plan to sew her all 3 dresses for late March...
Since I'm no pattern-designer and already-existing patterns for the various dresses don't really please me, here's my inspiration.
-The blue dress from the Disneystore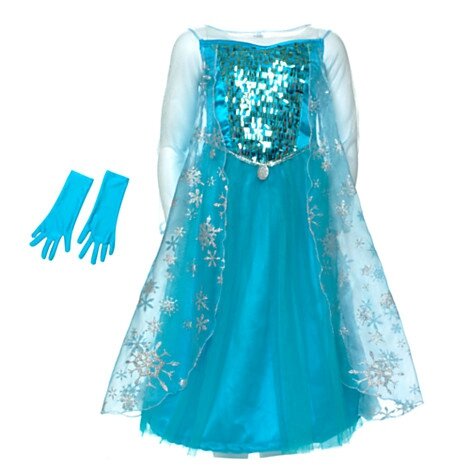 -Elsa's coronation dress.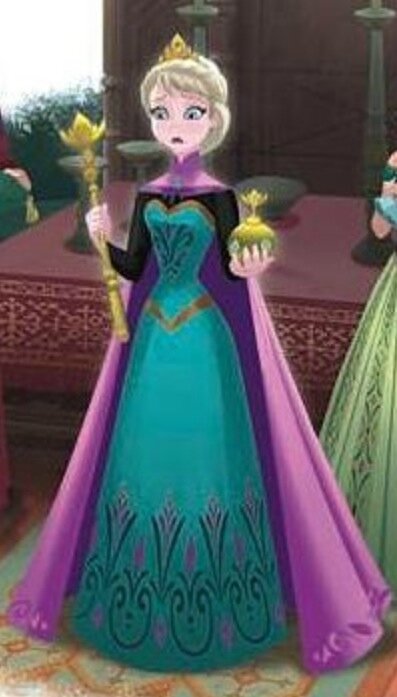 -Anna's dress from the Disneystore, along with its capelet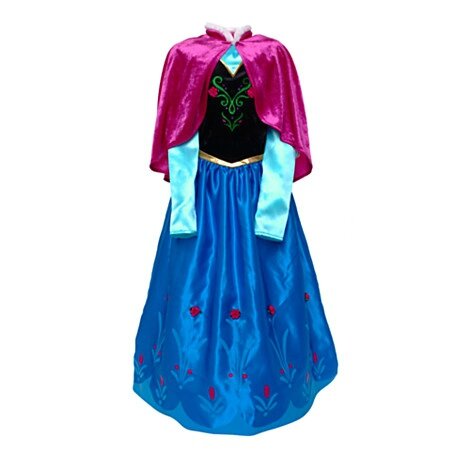 Most of the dresses will be based on this pattern I've already used: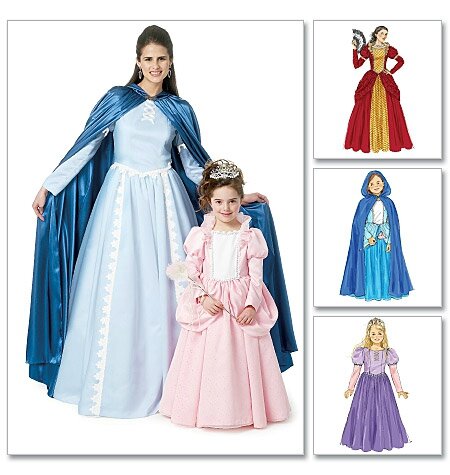 Neckline and sleeves will be altered and the cape will also be used.
I started a Frozen board on Pinterest, you can find it here.
I ordered some samples of sequin fabrics and velveteen from a German webshop (), I'll see.