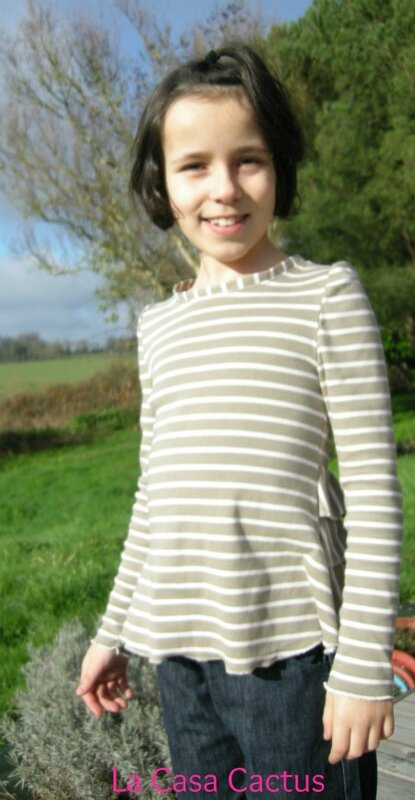 I really like the way the Ottobre patterns are displayed on their little models. Nice colors and mixing fabrics etc BUT that's not me. I really can't mix colors as they do. So I sticked to what I know most i.e. plain fabric! No peacock applique, no buttons, I kept the back ruffles and I used a striped knit.
I tried to align the stripes (I said "tried" since the back is cut in 2 parts, we'll say that's good every two stripes!)
I was amazed at the sizing. I usually sew a size 7 or 8 (122 or 128 for Ottobre) since she has long arms. For this pattern, I had to cut a size 116 without adding any seam allowances! Just to be sure, I took one of her beloved t-shirts and compared it to the pattern and then, I cut into that lovely fabric (I should have bought the whole lot!). So size 116 was fine, but next time, I will add 1" to the sleeves to have a "real" hem, and not a rolled one.
The rolled hem was my first trial with my serger and that's pretty simple to sew. Next time though, I think I will use some woolly nylon to get a more "fluffy" hem. The neckband is ugly and I really need to improve my neckband sewing with knits. I will unpick it and sew another one.
Everything has been serged, I just used my sewing machine to topstitch the neckband, in order to have it stand straight (a failure!).
Pattern: Ottobre 1/2011 #20, "Peacock Tunic"
Fabric: jersey knit "Phare de la Baleine", local fabric store