Miss G being a Frozen-addict and also a costume-addict, it's not surprising that I planned to sew her Elsa's blue dress. She will get it for her 8th birthday, on March 27th.
No PDF pattern I was drawn to, no pattern in my stash I really wanted to alter so I (badly!) sketched the dress I had in my mind (my drawing skills are those of a 2 year-old so I spare you my sketches...).
Here is my version of the Elsa Dress for a Frozen queen-to-be. I plan to sew 2 different fabrcis, hence the choice of a two-part bodice.
That's a rather long tutorial so I cut it into 3 parts (drafting the skirt is here). I hope that you will find it helpful. In case you're lost somewhere, just ask!
Stage 1: the bodice and the train.
MATERIAL:
One of your princess's t-shirts (slim-fit would be better)
Pattern tracing paper (or any paper)
Pencils
Rulers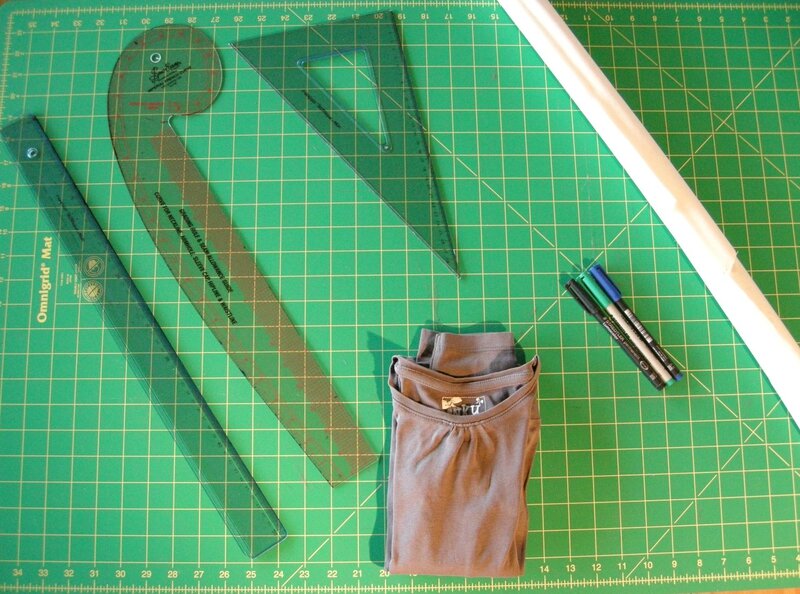 PRELIMINARY STEP:
Fold your t-shirt lengthwise, tuck your sleeves inside.
Try to get your seams aligned (pin them if necessary).
STEP 1: FRONT AND BACK
Trace two perpendicular lines
Align the center front of your t-shirt to the vertical line.
Trace the t-shirt shape: one front and one back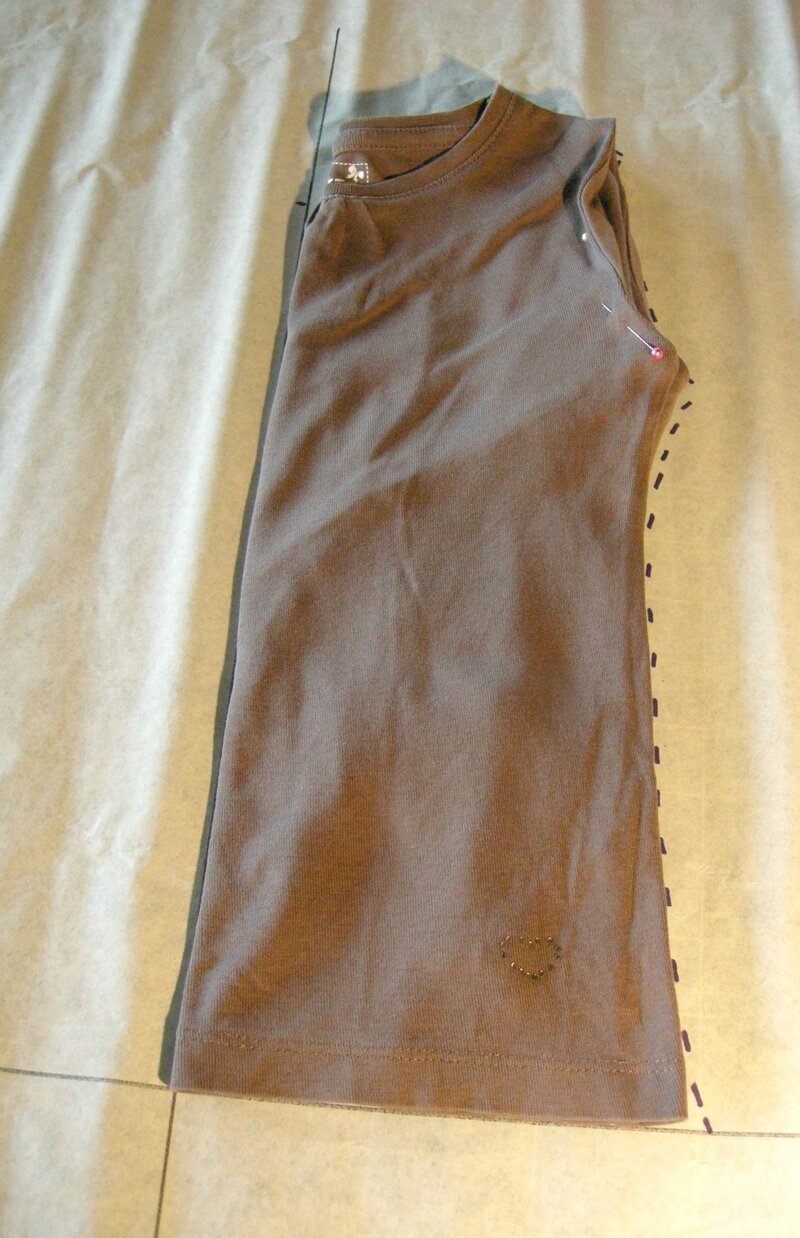 STEP 2: FRONT BODICE
NECKLINE
On the shoulder, draw a mark, 1" from the neckline.
Trace a curve starting from the mark to the center front. The neckline should look like a half-boatneck!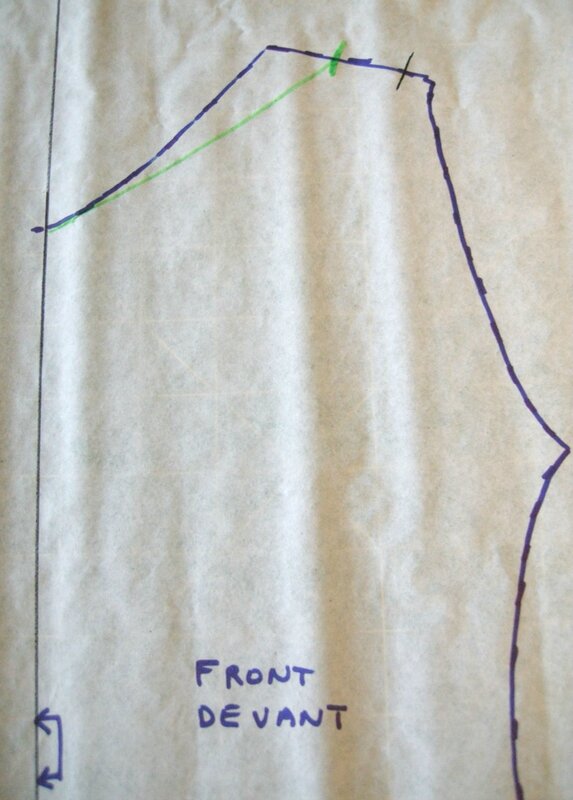 THE HEART-SHAPE TOP BODICE
Draw a mark 1" from the lower armhole.
On the fold line, draw a mark 1 1/2" from the neckline.
Draw two curves as if shaping waves. Use cans or your ruler to get nice curves. Because you're working on the fold, once your fabric is unfolded you'll get a nice heart-shaped curve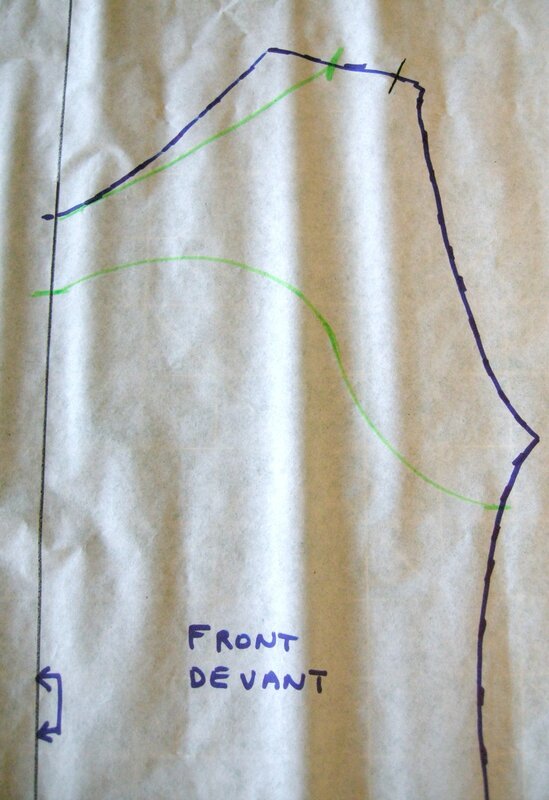 THE LOWER BODICE
Draw a mark on the outer seam (you can choose wherever you want, but the best is to have it at the top of the hip)
Draw a slight curve starting at the mark and finishing in a point at the center front.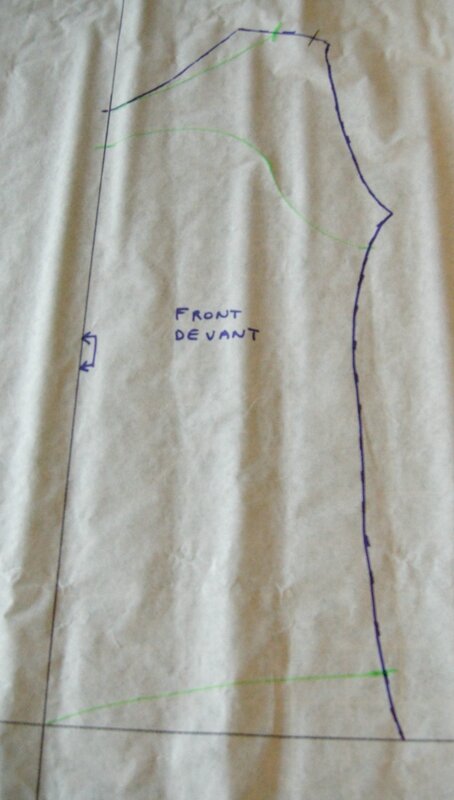 STEP 3: BACK BODICE
NECKLINE
Same as in STEP 2
BACK (top back and lower back pieces)
Draw a line starting 1" below the armhole and cutting the back bodice in half.
When sewing the bodice these lines will be aligned so take extra care when drafting them. Double-check with the front bodice "wave-lines"

Measure the outer seam of the front bodice. This will also be the measure of your back bodice's outer seam (otherwise...nasty surprise when sewing!) See the green line, at the bottom? Cut your bodice back there!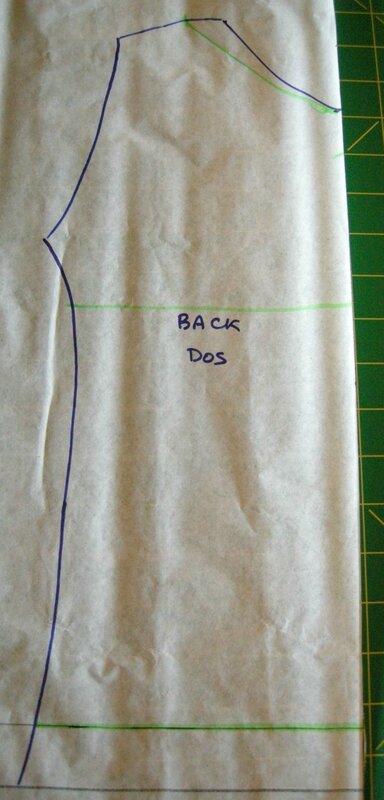 STEP 4: CUTTING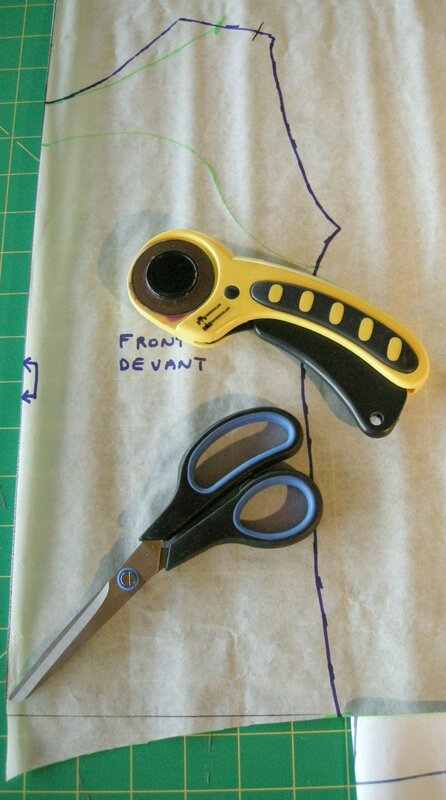 Cut your pattern pieces and number them! That's important because you may need to alter them and not knowing if you have in hand the revised pattern or an unrevised version might cause troubles!
Time for adding your favorite seam allowances (mine is 3/8").
Tip: afraid of sewing convex/concave curves? you can lengthen your top bodice like shown in the picture below.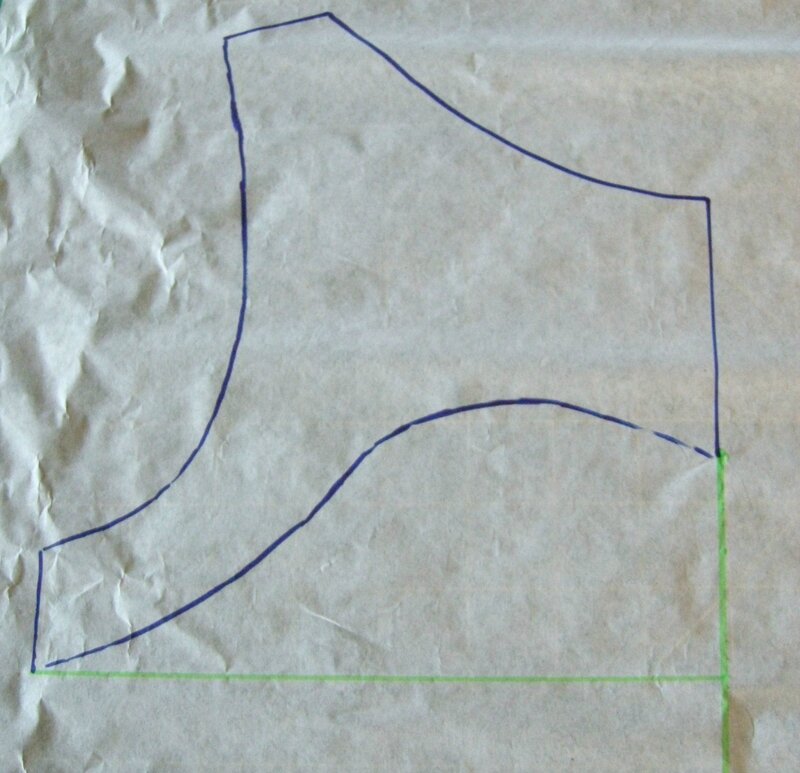 STEP 5: SLEEVES
Unfold your tshirt sleeve, draw the sleeve cap.
This tutorial is really helpful so I won't dwell on sleeve drafting...!
Trace your sleeve, lengthen it and add a point tha will rest on the top of the queen's hand!
Add your SA.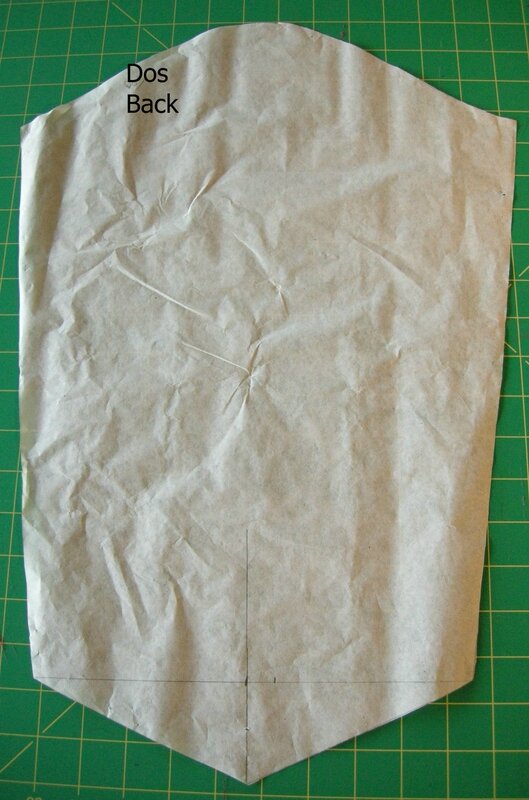 STEP 6: SEWING A MUSLIN
I made 4 muslins before finding the one that was 1. modest enough to cover Miss G 2. with the adequate length of sleeves 3. suited me!
With RST, proceed by sewing the top front to the lower front piece then the top back to the lower back.
Stitch the shoulder seams, RST.
Stitch your sleeves. I only sew one sleeve since I found puckers on my armhole i.e my sleeve curve is not enough.
Tip: front and back of sleeves are different. The front is curvier than the back and you must have some "fabric excess" on the sleeve (about 1"). If your armhole puckers, that means that you've got to alter your sleeve cap by adding some curve to it.

Have you noticed that the back is open? You can thus choose whatever closure system you prefer: velcro, zipper or nothing at all if you use really stretchy fabric (in that case, cut your back on fold and substract 2" and your SA).
I haven't chosen yet. I don't even know if I will line the bodice (I'll see...!).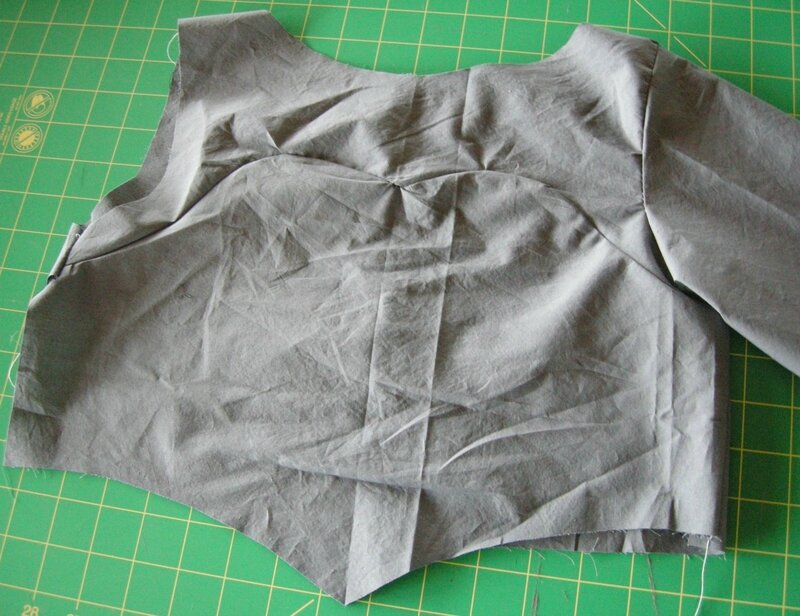 (I know, there's something called IRON in my cupboard...that was my 4th attempt and this one was the right one.It was less wrinkled last week anyway!)
Is your muslin fine? Now, drafting the train!
STEP 7: THE TRAIN
I decided that it would be more wearable if the train was attached only at the back.
On your daughter, measure her center back to the ground. Add 10" (a train is to be languidly following your aspriring queen...). You get measurement "H".
Get her center back- under the arm measurement. To get a nice flow of fabric, add 10". You get measurement "l" .
Trace one horizontal line measuring "l". Trace 2 perpendicular lines: one measures "H" (this line will correspond to the center back) and the other is 5-7" shorter. Trace a gentle curve between both lines as shown below. THat's it, you've got your train (well, one piece of your train!)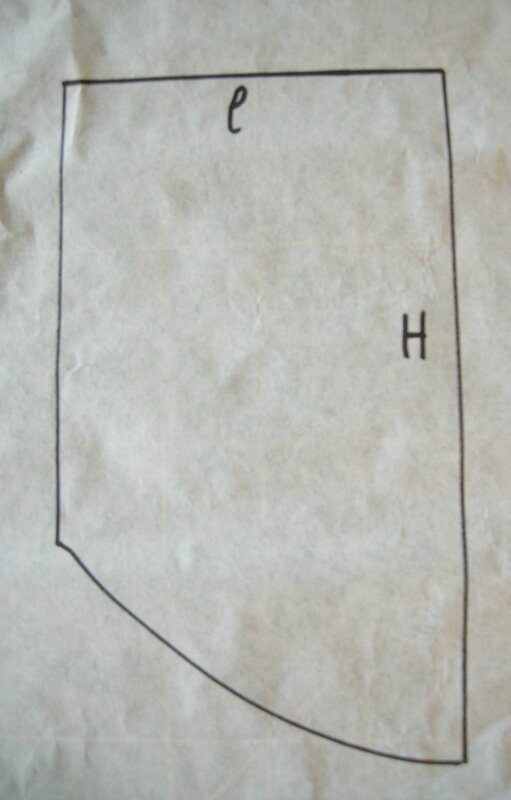 END OF BODICE DRAFTING!
Next step, the skirt...tomorrow!