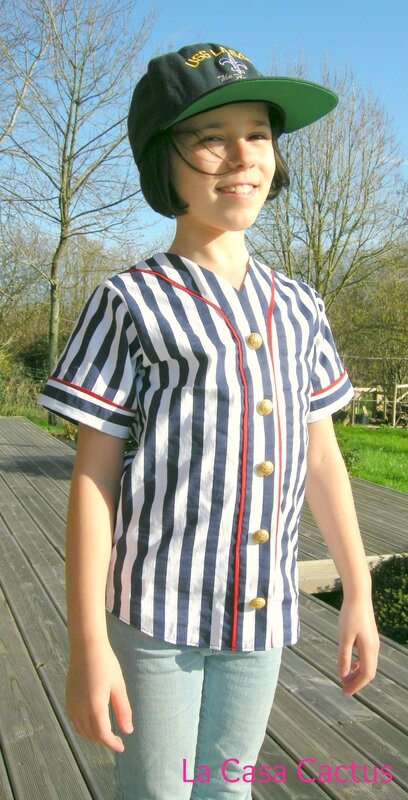 We, French people, are not known for our love/knowledge of baseball, but when I saw this call for testers for a vintage baseball shirt, I applied. I sent my 2 children's measurements and, to Mr J's dismay, it was Miss G that was chosen...!
In my mind, I wanted to do an extra-girly shirt with pink/purple fabric and ricrac, but the only purple fabric I had was made of polyester and since that project involves a lot of pressing to get a crisp look, I left my polyester aside. I turnt to my stash and digged into it. I don't buy any fabric when testing. I was lucky to have a dear friend who had sent me fabrics, buttons and threads she had no use of. Among those was an old curtain (!)...I chose it!
Here's my version of the Old Tyme Baseball Shirt, by Dandelions N' Dungarees. Flat red piping and gold buttons gave it extra vintage flair. And I managed to get (nearly!) all my stripes aligned!
I cut a size 6Y, I should have chosen a size 7 since it's not as loose as I thougth it would be. She can't wear a tshirt underneath. The fit is great nonetheless, since this fabric is home decor, it has no give AT ALL! The piping on both facings and cuffs is a wonderful idea.
The front facings are amazing an well thought of. This is a rather quick project to sew, especially if you don't have stripes to align!!! the sleeves fit perfectly.
All in all, that's a wonderful pattern I'll sew other times (e.g. for my "poor" son who has been left aside in this pattern testing...Poor J!)
You can find the pattern in various sizes in the shop (NB-2 ,2-7 and 8-16).